If you live to get behind the wheel, fire up that engine and give your truck a fresh paint job in mud-brown, then you want side bars with a little extra beef. ARIES 6" oval side bars offer a bold 6" diameter with a generous 5" step pad. These extra-wide side bars feature a universal design that allows them to fit multiple makes and models, and they mount using vehicle-specific brackets. The brackets are sold separately and allow the sides to perfectly match your vehicle and install with ease. ARIES 6" sides are made with an original-equipment (OE) styling and are available in two finishes -- including aluminum and stainless steel -- and four different lengths. Simply select the appropriate mounting brackets and side bar length for your vehicle, and you're ready to hit the streets or the trail. For a solid foothold, a comfortable step and a bold look for your truck, ARIES 6" oval side bars are a step up.
NOTE: Mounting brackets for ARIES 6" oval side bars are sold separately. To find side bars and mounting brackets that will fit your vehicle, use the Vehicle Lookup or see the application guide.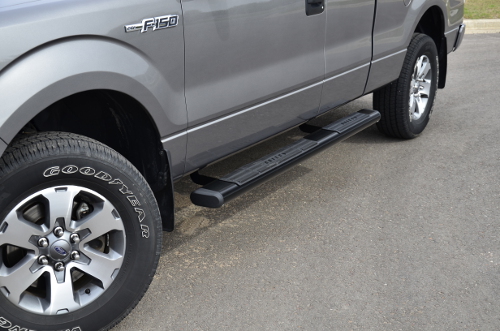 Vehicle-specific mounting brackets
ARIES 6" oval side bars are wide, strong and universal in design. The sides themselves come in four standard lengths, including 53", 75", 85" and 91". The mounting brackets, however, are made vehicle-specific. For each make and model, a unique pairing of side bars and mounting brackets allows for easy installation and an optimal fit. The mounting brackets are made from high-strength carbon steel to provide reliable footing, and they use pre-existing holes in the vehicle's frame to eliminate the need for drilling during installation. The mounting brackets will accept either finish option of the 6" sides to make it easy to customize the look of your truck.
Heavy-duty construction
Each ARIES 6" oval side bar is made with heavy-wall tubing and an original equipment styling. The OE styling is designed to complement your truck no matter which make or model you drive. For Ford, Chevy, Ram, Toyota and more, these side bars mount securely and integrate perfectly with the style of your vehicle. All 6" oval sides are also equipped with hard ABS plastic end caps, giving them a finished look and protecting the interior of the tube from rust and corrosion.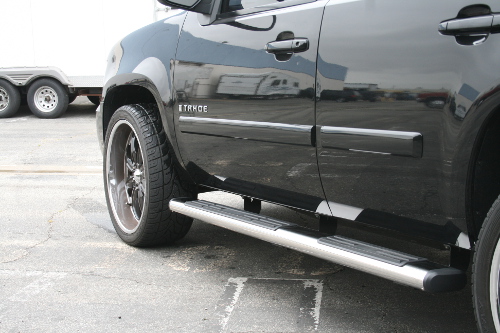 Two finish options
To give you exact look you want for your truck, we offer the ARIES 6" side in two finish options: semi-gloss black aluminum and polished stainless steel. Our 6" aluminum side bars are made with 2mm thick walls to ensure strength while keeping them lightweight. Aluminum construction also makes these side bars completely resistant to rust. For an extra layer of protection and a classy shine, our 6" aluminum sides come with a semi-gloss black powder coat finish. ARIES 6" oval side bars are also available in stainless steel. The steel is a 304 stainless, making it high in nickel content and extremely resistant to rust and corrosion. For a lasting shine and the perfect accent to your vehicle, our 6" stainless steel sides are given a highly polished, mirror-like finish.
Extra-wide, non-skid step pads
For a sure step every time you climb into your truck, all ARIES 6" oval side bars are equipped with a set of large step pads. The pads are made from tough polypropylene and provide a generous 5" width to cover much of the side bar. The large, flat surface offers comfortable footing and has a textured surface to prevent slips, even when wet. The polypropylene construction makes it durable and crack-resistant for long-lasting reliability against wear and tear.
Backed by warranty
You never know what the trail or the road ahead may hold. To give you the peace of mind to face it head on, our black aluminum 6" oval sides are covered by a five-year warranty, and our stainless steel 6" oval sides are covered by a limited lifetime warranty.