3" Round Side Bars
With a vehicle-specific fit for hundreds of applications
Side bars on your truck or SUV are not just there to make it look pretty. Each ARIES 3" round side bar provides a solid place to plant your foot with custom, non-skid step pads and high-strength carbon steel mounting brackets. Each side bar is made vehicle-specific to perfectly accent the contours of your vehicle. We offer our 3" round side bars in two finish options, and both are backed by warranty to give you peace of mind.
Solid construction
ARIES 3" round side bars are made from 3" diameter heavy-wall tubing to provide sturdy footing. We offer two material options: stainless steel and carbon steel. Our stainless steel 3" side bars are high in nickel content, making them extremely resilient to rust and ready to face the off-road elements. The 304 stainless comes with a polished finish and adds a lasting shine to your truck. We also offer carbon steel 3" side bars, giving you a high-strength side bar option. These carbon steel side bars are put through an E-coat process before receiving a black powder coat finish, giving them the tough skin they need to resist peeling, chipping and corrosion.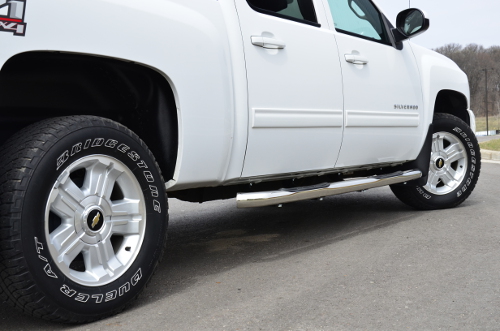 Vehicle-specific, custom fit
ARIES 3" round side bars don't stop at quality construction. We make each of our side bars for a specific vehicle make and model, designing them with custom bends and custom-placed step pads for the best possible fit. This means that whatever truck, SUV or crossover you drive, ARIES 3" side bars are made to match. They mount with strong, vehicle-specific carbon steel brackets that use pre-existing factory holes in the frame to install faster and eliminate the need for drilling. The custom step pads are positioned on each side bar for optimum functionality with the layout of your vehicle's doors and are textured to resist slips, even when wet. The step pads are molded from long-lasting polypropylene and cover a wide portion of the rail for a more comfortable step.
Backed by warranty
If you expect sure footing every time you climb into your truck, ARIES 3" round side bars have you covered. Our side bars are proven to fit and warrantied against defects to give you confidence for whatever lies ahead. We back our 3" side bars with a three-year warranty for the black carbon steel finish and a limited lifetime warranty for the stainless steel.